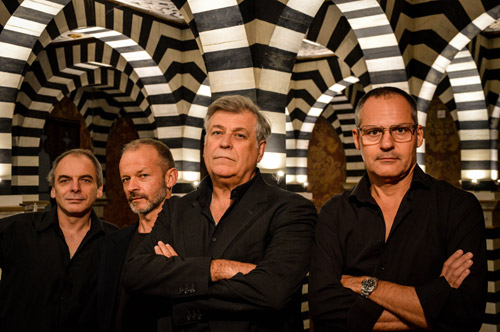 Riccardo Tesi (Accordion)
Claudio Carboni (sax)
Maurizio Geri (Guitar & voice)
Gigi Biolcati (percussion )
Banditaliana celebrates its 25 years of career with a new album and a tour with a significant title "ARGENTO" (Silver)
A range of new songs and instrumental compositions with the scent of the Mediterranean sea, always a source of inspiration for their music. Music that has no borders, where tradition and innovation merge and blend together.
The quartet founded in 1992 from a sixth sense of Riccardo Tesi, is now one of the most famous internationally known Italian groups of world music.
Original compositions, instrumental virtuosity, precious rhythmic blends and refined arrangements make up the stylistic element of the group that with its light and cheerful music has enchanted the audiences of the most important folk and world festivals.
Instigator of the rediscovery of the diatonic accordion, Riccardo Tesi revolutionized the image and vocabulary of this popular instrument by forcing the narrow boundaries of ethnic music to be included in the jazz and singer-songwriting field.
(Tesi was the diatonic accordion player of Ivano Fossati, GianMaria Testa and Fabrizio de Andrè in his latest album "Anime Salve")
Since their debut in 1992, supporting elements of the band are Maurizio Geri, soloist and acrobatic guitarist whose style blends the themes related to Mediterranean music with improvised swing-manouche, Claudio Carboni, saxophonist with a dry and precise phrasing, raised in the best tradition of ballroom music and since 2010, Gigi "Fastfoot" Biolcati, the barefoot percussionist who adds his personal groove to the music of Banditaliana.
Discography Banditaliana
Banditaliana (Il Manifesto/Felmay, 1998)
Thapsos (Il Manifesto/Felmay, 2000)
Lune (Il Manifesto/Felmay, 2004)
Madreperla (Visage Music, 2011)
Maggio (Visage Music , 2014)
Argento (Visage Music 2018 )
Special productions
Riccardo Tesi, Un ballo liscio (Silex, 1995)
Riccardo Tesi & Maurizio Geri, Acqua foco e vento (Il Manifesto, 2003)
Riccardo Tesi e Claudio Carboni, Crinali (Felmay, 2006)
Riccardo Tesi, Presente Remoto (Il Manifesto, 2008)
Riccardo Tesi e Maurizio Geri, Sopra i tetti di Firenze (Materiali Sonori, 2010)
Booking
Associazione Culturale Viavai Via Madonna del Violo 7
59016 Poggio a Caiano PRATO
e-mail: info.viavai@virgilio.it
+39 335 6619638; claudiosax@interfree.it
+39 338 5368142; rictesi@tin.it
www.riccardotesi.com
facebook Riccardo Tesi & Banditaliana
---

---