Altri progetti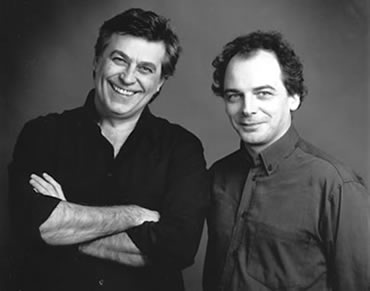 Riccardo Tesi (diatonic accordeon)
Maurizio Geri (guitar, voice)
Acoustic guitar, diatonic accordeon, voice; a micro-universe of sonorities and poetry with a Medirranean feel, music without frontiers, vital and sunny, wedding virtuosity with emotion.
Composer, instrumentalist, researcher : these are the faces of the complex and versatile artistic personality of Riccardo Tesi, absolute ethnic music pioneer in Italy.
Since the beginning in 1978 with Caterina Bueno through to the present collaborations , the musical history of the artist from Pistoia shows a precious continuity made out of passion and omnivorous curiosity, which has seen him collaborating with artists of different geographic and stylistic extraction such as the Sardinian singer E.Ledda and the French mandolin player P.Vaillant, the Basque
K.Junkera and the English J. Kirkpatrick, the Malagasy J.Vali, the jazz players G.Trovesi e G.Mirabassi and the singer songwriters I.Fossati, F.De Andrè e G.M.Testa.
Maurizio Geri was born in the mountainous region north of Pistoia, and as a boy learned the techniques and repertoire of traditional singing, which later on he kept practising and further investigating during his long lasting collaboration with Caterina Bueno.
His guitar playing style combines the themes of the mediterranean ethnic music with the phrasing and improvisation peculiar to the manouche-swing style.
He is leader of the Maurizio Geri Swingtet and with this group he has recorded two albums containing his very personal and original interpretation of gypsy music, for which he has received critical acclaim and an invitation to the Django Reinhardt festival in Samois, by far the most important event for that kind of music.
Riccardo Tesi and Maurizio Geri, companions for over a decade in the Banditaliana project, a leading group of the italian world music, have recently realized a work entirely dedicated to traditional music from Toscana: "Acqua Foco e Vento"
Riccardo Tesi's melancholy and dreamy accordeon merges with Maurizio Geri's vibrant voice and formidable guitar playing as they perform some of the classics from their repertoire in a unique blend of traditional music , jazz and contemporary song.
---

---