Altri progetti
50 years of
Bella Ciao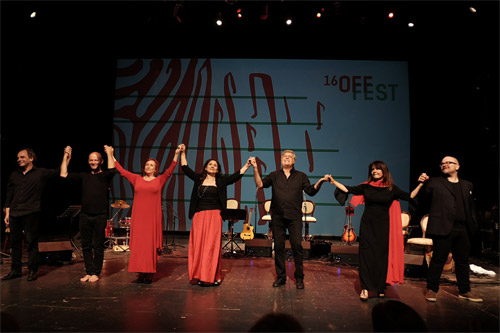 The greatest show of Italian folk revival re-staged fifty years later with a formidable cast:
Lucilla Galeazzi voice,
Elena Ledda voice,
Luisa Cottifogli voice,
Alessio Lega voice, guitar;
Maurizio Geri guitar,
Gigi Biolcati percussion, voice;
Riccardo Tesi diatonic organ, musical direction
Bella ciao is historically the show that marked the beginning of the Italian folk revival. From the first performance in 1964 at the "Festival dei Due Mondi" in Spoleto, accompanied by fierce controversy, derives the work of all the musicians who today perform with great success bringing Italian popular music to piazzas all over the world.

Re-staged 50 years from the first performance, (June 21st 1964) meant proposing a show whose orignal echo has never been estinguished, even for the thousands of later fans, but also meant, updating it on the basis of the evolutions and developments that the folk revival has had over this large span of time whilst maintaining its original playlist.

Since 2014 the new staging has been and continues to be a huge success throughout Europe, proving that the songs of "Bella Ciao" not only retain their power of expression but have also acquired a new urgency in the global world for their values of liberty and peace.

Bella ciao is a lesson in democracy that rises from the bottom. A historical story that is told through music, sounds and words..

The innovation of this re-staging lies in the musical treatment entrusted to an ensemble directed and coordinated by the organist Riccardo Tesi, one of the most brilliant and attentive protagonists of world popular music.

No longer the accompaniment of the guitar alone but a work of arrangement that establishes a more sophisticated dialogue between sounds and meanings, for a rich, popular symphony aided by the guitarist Maurizio Geri and the percussionist Gigi Biolcati.

Bella Ciao however, was and remains a performance of popular songs and the centrality of the song is confirmed by the presence of some of the most important voices of Italian popular music and social singing in the last thirty years, who are the direct sons of "Bella Ciao": Lucilla Galeazzi, Elena Ledda, Luisa Cottifogli e Alessio Lega.
---

---