Altri progetti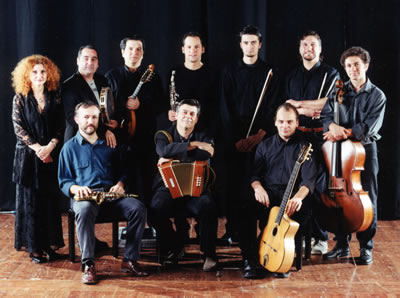 A project by Riccardo Tesi
Musical conduction and arrangements: Riccardo Tesi and Maurizio Geri
Vocal conduction: Devis Longo
Riccardo Tesi (diatonic accordion (melodeon))
Maurizio Geri (voice, guitar)
Nando Citarella (voice, tambourine)
Mauro Palmas (voice, string instruments)
Devis Longo (voice, keyboards, sax)
Anna Granata (voice)
Damiano Puliti (cello)
Claudio Carboni (sax)
Daniele Mencarelli (double bass)
Valerio Perla (percussion)
Riccardo Tesi's musical debut was related to Caterina Bueno, undoubtedly the most profound connoisseur and performer of the Tuscan traditional repertoire. Many years later, after fulfilling an experience that has allowed him to get in touch with diverse ethnic areas and musical styles, Riccardo Tesi is reworking the music of his land. In order to undertake this journey into the musical memories of the "minor" Tuscany he has chosen Maurizio Geri as his companion, a long-time collaborator of his in the Banditaliana group. They share the work on arrangements and the musical conduction.
Commissioned by the Councillorship of Culture of the Pistoia Province, "Acqua, foco e vento" is an original project pointing out the intention to originally rework the Pistoia mountains and Tuscan repertoires to a much greater extent than to stick to mere philological correctness, through an absolutely personal and contemporary reinterpretation.
This work does not highlight Riccardo Tesi as a concertina player, since he focuses on his functions as a co-ordinator and musical director, leaving the main role to the voice of Maurizio Geri, a fully entitled heir of this heritage. The pieces selected aim at describing the musical world, the history and deeds of the people of Pistoia, from the mountains to the plains, widening the scope of the narration to other Tuscan areas such as the provinces of Siena and Grosseto, even to Corsica, known by the people of Pistoia through their experience as coalmen and shepherds during the transhumance.
The repertoire is made of work songs, octaves, begging songs, ballads, lullabies, collective songs connected to original compositions. The members of the ensemble are all stars of the national ethnic music and convey a unique flavour to the show, already defined by some critics the best Italian world music production of the last years.
We played at :
PISTOIA BLUES FESTIVAL
FABBRICA EUROPA
SUONI DAL MONDO (Carrara)
GREY CAT FESTIVAL
ITINERARI MUSICALI
ITINERARI FOLK
SETE SOIS SETE LUAS (Pontedera)
BIOGRAPHICAL NOTES
RICCARDO TESI A composer, an instrumentalist and a researcher: these are the aspects of the complex and multifaceted musical personality of Riccardo Tesi, a true pioneer of ethnic music in Italy and leader of the Banditaliana group. From his debut in 1978 with Caterina Bueno, strongly rooted in the folk tradition, to the present day collaborations, the musical curriculum of Tesi, born in Pistoia, is characterised by a precious continuity based on eager passion and curiosity that have led him to compare his Tuscan heritage to the Italian, Basque, English, French and Malagasy traditions, as well as to jazz, liscio (Italian popular dance music) and songwriting. His musical experience with the Sardinian-Tuscan group Ritmia, his duo with Patrick Vaillant, the Occitan song show "Anita Anita" with Vaillant and Jean-Marie Carlotti, the diatonic accordion (melodeon) trio Trans Europe Diatonique with Kirkpatrick, Perrone and Junkera, the jazz trio with Vaillant and Gianluigi Trovesi have broadened his geographic borders and musical frontiers, as well as other highly prestigious collaborations with Malagasy Justin Vali, Sardinian singer Elena Ledda, harp player Vincenzo Zitello, Neapolitan jazz singer Maria Pia De Vito, flat-picking guitarist Beppe Gambetta, ethnic jazz musician Daniele Sepe, and great Italian songwriters or singers such as Ivano Fossati, Fabrizio De André, Ornella Vanoni, Gianmaria Testa, Giorgio Gaber.
MAURIZIO GERI He started at a very young age as a member of the Collettivo Folcloristico Montano with which he learned the techniques and the repertoire of the Pistoia mountains traditional singing. He went on deepening his knowledge of Tuscan music with Caterina Bueno, with whom he collaborated for many years. In 1992 he contributed to the foundation of Riccardo Tesi's Banditaliana, as a guitar player and lead voice. In 1995 he took part in the "Un Ballo Liscio" production. In 1998 he recorded the music of the "A volte ritornano" show together with Mauro Palmas, Elena Ledda, Gabriele Mirabassi and others. In parallel with his work on Italian ethnic music, as a leader of the Maurizio Geri Swingtet he conceived a project based on a quite personal reworking of the Gipsy manouche music, recording "Manouches e dintorni" in 1998 and "A cielo aperto" in 2000.
CLAUDIO CARBONI A liscio saxophone player since the age of 11, he took part in the "Un ballo liscio" production, besides being a regular member of Banditaliana.
VALERIO PERLA A specialist of ethnic percussion, he is a member of Tamburi del Vesuvio and has been a former collaborator of Jovanotti, Enzo Gragnaniello and Mau Mau.
DAMIANO PULITI A classically trained cellist, open to experimentation, he is a member of the Harmonia Ensemble.
DANIELE MENCARELLI A distinguished double bass player from the Perugia jazz scene, he has worked with clarinet player Gabriele Mirabassi and is a member of the Banditaliana sextet.
ANNA GRANATA She was the lead voice of the Florentine group Byzantina for a long time.
MAURO PALMAS Provided with a warm and deep voice, a mandola virtuoso, he was the founder of the Sardinian group Suonofficina and is at present the musical director of Elena Ledda & Sonos.
DEVIS LONGO A multifaceted musician from Piedmont, a member of Ciapa Rusa, Tendachent and Ensemble del Doppio Bordone, he was in charge of vocal arrangements.
NANDO CITARELLA A tambourine player and leader of Tamburi del Vesuvio, he is one of the finest singers in the Italian ethnic scene and has gained remarkable experience working for TV shows, movies and theatrical shows.
BOOKING
Associazione culturale "ViaVai"
Via d'aragona, 255. 51032 Pistoia
e-mail: rictesi@tin.it; info.viavai@virgilio.it
mobile: 0039 348 31 43 384
---

---